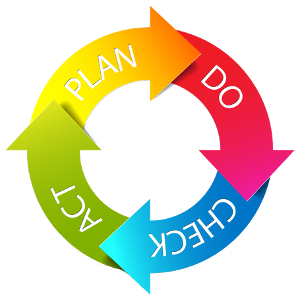 The purpose for using our tools as a management system conformance portal is twofold:
1. To improve productivity
2. To help you conform to the ISO standards
Of course, using our tools does not guarantee a successful audit. It does, however, improve your Management System deployment, make it easier for you to document and retain information that helps during your audit.
We have found organizations using our portal can help improve competence, awareness and communication to all employees.

ISO Management System
Standard Clause



Objective Evidence for
the Auditor


Conformance Portal Solution

5.1 Leadership & Commitment




Ensure integration of QMS into business process
Ensure resources needed for QMS are available
Communicating importance of effective quality management and conforming to requirements

Auditor's Objective Evidence




Show regular communications
Show where staff submits ideas

On your portal




Describe how the portal is being used in the Management System in a document AND create a short test to ensure people have read and understand the description
The fact that a portal is being used is objective evidence that resources are used for the Management System
Use the collaboration system to communicate regularly with staff

5.1.2 Customer Focus




Auditor's Objective Evidence




Use a Customer Satisfaction Survey

On your portal




Create one or many surveys for customers.
Direct links to the survey can be given to the surveys.

5.2 Quality Policy


Employees and contractors should understand and how it relates to their work

Auditor's Objective Evidence






On your portal




Take a digital version and publish it on the portal
To ensure it is being read and understood, create a small test about the Quality Policy

6.1 Actions To Address Risk And Opportunities & 6.1.2 the organization shall plan actions to address these risks & opportunities; How to:


Integrate and implement actions in QMS
Evaluate the effectiveness of actions

Auditor's Objective Evidence




Risks identified (per company process) focusing on context & interested parties
Actions planned with evaluation of effectiveness

On your portal




Use our CAPA system
In a Document how risks are processed and what interested parties are affected

6.2 Quality Objectives And Planning




What are the objectives?
Consistent with Quality Policy





Auditor's Objective Evidence




Is there documented information about the Quality Policy and its objectives
How are the objectives communicated

On your portal




Communicated via portal's collaboration system
Quality Objectives and Procedures are saved in the Document Management System
A test to show it was read and understood

7.1.3 Infrastructure




IT & Communication technology





Auditor's Objective Evidence




Look at the IT / Communication Systems





On your portal




Show the portal as part of the information and communication technology and
how it relates to the MS

7.1.4 Environment For Operation






Auditor's Objective Evidence




Look for evidence of proper work environment for laboratories (Temp, humidity…), inspection areas, computer network rooms…

On your portal




The collaboration tool is used as a social platform for employees

7.1.5.1 Monitoring And Measurement




Ensure valid and reliable results to verify conformity of products and services to requirements.





Auditor's Objective Evidence




Retain appropriate documented information of fitness for purpose

On your portal




The Document Management system provides a method to retain appropriate documentation

7.1.6 Organizational Knowledge (

very important

)


Determine the knowledge necessary - how much information is required
How are standard processes consistently understood?
Readily available
How do staff access instructions? Can they find them?
Verification of access for W.I. and Procedures

Auditor's Objective Evidence




Work Instruction & procedures as determined necessary
Verification of access

On your portal




Provide both employee and supervisor access to the portal to the auditor
Auditor can "see" what is available
Auditor can review the work instructions (can access off site to reduce audit costs)

7.2 Competence




Determine necessary competence of Staff / Contractors
Ensure staff/contractors is competent
Take appropriate steps (training…)
Retain appropriate documented information
Training Needs / Competency requirements matrix or equivalent – Who needs what?
Records of competency

Auditor's Objective Evidence




Training Needs / Competency requirements matrix or equivalent – Who needs what?
Records of competency
Related to work instructions (OJT is common)

On your portal




Document training procedures, needs and matrix
Retain Job Descriptions on portal link job description to portal training courses
Use the testing tool to show actual training results
Use the testing tool to show employee evaluation

7.3 Awareness - Persons working under organizations control are aware of:


Quality policy
Relevant quality objectives
Their contribution to the effectiveness of QMS
The implications of not conforming with QMS

Auditor's Objective Evidence




Staff & Contractors
Is Staff aware of QMS Policy?
Aware of their contribution to effectiveness of QMS & Objectives? & Consequences of not conforming?
Aware of related work instructions

On your portal




Document Management can retain and provide access to the Quality Policy and statements of effectiveness and implications of QMS
A Simple test can ensure the employee or contractor has read and understands the Quality Policy

7.4 Communication - Internal communications





Auditor's Objective Evidence



Evidence of


Training
Company meetings
postings…

On your portal




The collaboration system shows a wall of notifications
The collaboration system group discussions shows all communication and minutes of meeting by department
The training system can be used to send notification of course completion and test results

7.5 Documented Information





Auditor's Objective Evidence




Creating and updating
Verify control of document information
All documents are identified and controlled per process (Approved, protected…)
Available for use
Verify external documents (e.g. cust. specs)
Records protected from unintended alterations

On your portal




The document management systems has all the controls needed to verify 7.5

8.5.3 Property Belonging To Customers/External Providers




Shall identify verify protect and safeguard
Report any loss, damage, unsuitable to the customer or external provider and retain documented information on what has occurred

Auditor's Objective Evidence




On your portal




Document management system - Create the policy and procedure for handling external provider property
Create short test on the policy and verify understanding
Use the forms manager to log customer property and its disposition

8.7 Control Of Nonconforming Outputs


Verify Nonconforming records (e.g. Logs…)
Describes the nonconformity
Describes the actions taken
Describes any concessions obtained
Identifies the authority deciding the action in respect of the nonconformity
Requirements verified when corrected

Auditor's Objective Evidence



Verify Nonconforming records (e.g. Logs…)


Describes the nonconformity
Describes the actions taken
Describes any concessions obtained
Identifies the authority deciding the action in respect of the nonconformity
Requirements verified when corrected

On your portal





Use the built in CAPA system to identify a process that created a non-conforming products
Use the forms tool to log the Nonconformity

9.1.2 Customer Satisfaction




Surveys, interviews (Would need record for review)

Auditor's Objective Evidence




Surveys, interviews (Would need record for review)

On your portal




Use the survey system to keep and maintain customer satisfaction results

10.2 Nonconformity And Corrective Action


Shall retain documented information as evidence of...
The nature of nonconformities and any subsequent actions taken
The results of any corrective action

Auditor's Objective Evidence




Look for repeat nonconformances
Verify root cause really defines cause
Verify corrective action addresses root cause exactly
Small issue = small corrective action
Verify Corrective Actions closed timely
Verify the CA was completed

On your portal




Use the built in CAPA system to identify and log N/C processes
Show reports showing repeat N/Cs, timely resolutions